Black Eyed Peas get customized Honda Civic
Now the Black Eyed Peas donít only make good music, they make a good inspiration for a great ride --- for they, the Black Eyed Peas - and Honda have teamed up to create a one-of-a-kind Civic Hybrid that will be showcased at the band's Honda Civic Tour.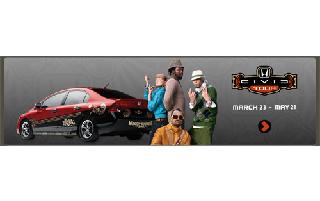 The carís exterior gets a custom fireball-flaked metallic red-and-black base coat treatment with marbleized gold scrolling. The band's logo embellishes the rear passenger doors, and each band member's autograph can be found on the vehicle. Racing-inspired, black 18-inch Konig "Unknown" rims complete the exterior package.

The interior is outfitted with custom red leather seats with gold stitching, embroidered with the band's monkey logo on the headrests. A custom-installed Sure 55SH microphone acts as the gearshift and Alpine Electronics provides the state-of-the-art multimedia system.

The customized Honda Civic Hybrid that will be up for grabs in a sweepstakes until August this year.

Meanwhile, if youíre looking to customize your own Honda Civic, just click over to Auto Parts Discount for top quality wheels, hubcaps, hoods, grilles, and spoilers.