Audiís 2007 S4 and A4 Cabriolets Starts at $40K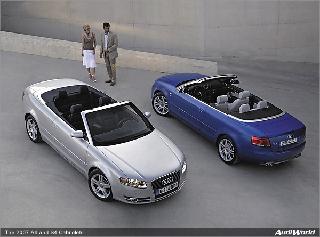 Audi has announced that its redesigned 2007 S4 Cabriolet will cost from $56,420 with a six-speed manual gearbox and from $57,620 with a six-speed Tiptronic.

While the A4 3.2 V6 is priced at $47,670, the standard 2007 A4 Cabriolet will start at $39,820 with front-wheel-drive, two-liter turbocharged four-cylinder engine, the 2.0 T.

Both the 2007 S4 and A4 Cabrios get fresh styling including Audiís signature single-frame grille. The A4 2.0T is now packed with a 200-horsepower turbo FSI direct-injection gas engine and can be equipped with a Multitronic continuously variable transmission in front-wheel drive or a six-speed Tiptronic in Quattro all-wheel drive.

The Tiptronic and Quattro are standard on the A4 3.2 Cabriolet, which features a 255 hp V6 FSI. The S4 Cabrio sports come with Quattro all wheel drive as standard, with a 4.2-liter V8 that delivers 340 hp.