"Bland" Toyota Camry gets a makeover
If you have always thought of the Toyota Camry as a rather bland car – one that you could make a bit more exciting with a little customizing and nice, quality auto parts from your favorite auto parts store Auto Parts Discount – well maybe this time with the recent unveiling of the all new, 2007 Toyota Camry and Toyota Camry Hybrid, you might think a bit differently.

Toyota is hoping to change the "bland" and "looks-like-a-car-my-dad-would-drive" perception of the vehicle with the 2007 Camry, the sixth generation of the best-selling sedan that first appeared on American roads 24 years—and 6.5 million sales—ago. On Monday, Toyota unveiled the all new version of the Camry, a top-to-bottom redesign that includes an optional 268-horsepower V6 and a hybrid variant that offers 42 miles per gallon in city driving.

"With the new 2007 Camry, Toyota once again raised the bar for the family sedan," said Don Esmond, senior vice president, automotive operations, Toyota Motor Sales, U.S.A., Inc. "Camry's reputation as the gold standard was developed over more than 20 years of refining this excellent package and this new Camry continues that reputation."

The newly redesigned mid-size Camry will come in five trims, the top models drawing power from a new 3.5-liter V6. A short-stroke version of the Avalon engine, the 3.5-liter will pump out 268 hp and 248 lb-ft of torque, feature variable valve timing and come mated to a new six-speed automatic transmission.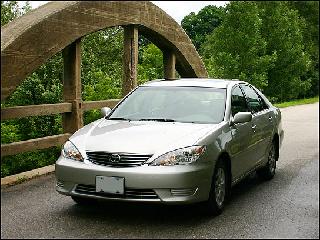 The Camry Hybrid with Hybrid Synergy Drive will yield exceptional fuel efficiency with preliminary estimated ratings of 43 mpg in the city and 37 mpg on the highway and 40 mpg in combined driving. Additionally, Camry Hybrid is expected to be certified as an Advanced Technology Partial Zero Emissions Vehicle (AT-PZEV), just one of a handful of cars to meet the strict AT-PZEV standard. It joins the Toyota Prius, Toyota Highlander and Lexus RX 400h in the company's hybrid family. Soon a Lexus sedan will be added to the group.

Expect the new Camry to hit Toyota dealers in early March, with the Camry Hybrid later this year.